Save the Date for the 2015 Alumni Leadership Assemblies!
Alumni Leadership Assembly (ALA) is a weekend full of opportunities for UGA alumni chapter leaders to see and learn how UGA has grown since graduation. The gathering offers unique opportunities for individuals to connect with current students and other chapter leaders while further developing the leadership and organizational skills to lead an alumni chapter. Not only will attendees leave ALA with the tools to improve their chapters, they will also develop relationships with other chapter leaders from across the country.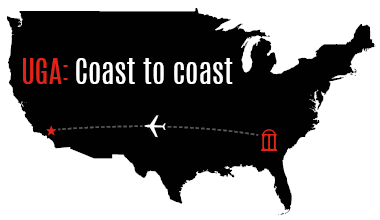 The Regional Programs team is enthusiastic about refocusing on UGA's mission by helping plan purposeful chapter programming in the coming months. You have asked for more access to chapter advice and insight, and we're excited to be working more closely with you, our valued chapter leaders.
In order to share important information with chapter leaders, our team will host two Alumni Leadership Assemblies in 2015. All chapter leaders are invited to Los Angeles and/or Athens to network with other leaders and gather the skills and knowledge to take your chapter to the next level.
Save the Dates:
Los Angeles, California (Friday, February 27 - Saturday, February 28, 2015)
Athens, Georgia (Fall 2015)
We hope to see you at one (or both!) of them!
Registration is now open for Alumni Leadership Assembly in Los Angeles. Register here.
Questions? Email Jackie Guglietta at jmg88@uga.edu or Danielle Alexander (MSW '11) at ddowning@uga.edu.
Stay connected with this year's ALA festivities whether you are attending or not by tagging #ugaALA!