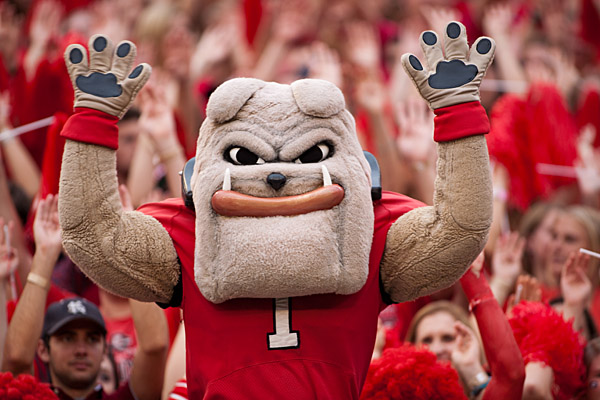 Glory, glory to old Georgia!
G-E-O-R-G-I-A!
The Georgia Bulldogs are hoping to end 2014 in style with a big win in the Belk Bowl against the Louisville Cardinals. UGA Alumni Association chapters are hosting official Belk Bowl game watching parties across America.
Click on your chapter below for information about your local game watching event.
Don't see your local chapter hyperlinked below? Please check the chapter's Facebook page for the
most up-to-date information about game watching plans.
Click here to find a full list of chapters. You can find each chapter's Facebook page linked on their webpage.
If you're planning to travel to Charlotte for the game, please consider joining UGA as it partners with the
University of Louisville for a community service project the day of the game. Click here to learn more. Space is limited, so register today.
Interested in attending the game? Click here to purchase tickets.
Augusta, GA
Baltimore, MD
Birmingham, AL
Boston, MA
Central Ohio (Columbus)
Central Pennsylvania (Lancaster/Wormleysburg)
Charleston, SC
Columbia, SC
Columbus, OH
Dallas-Fort Worth, TX
Detroit, MI
Fort Myers/Naples, FL
Fort Worth, TX
Golden Isles of Georgia
Hall County, GA
Hilton Head, SC
Huntsville, AL (North Alabama)
Jacksonville, FL
Kansas City, MO
Lake Oconee, GA
Lancaster, PA
Las Vegas, NV
Lexington, KY
London, England
Louisville, KY
Memphis, TN
Mobile, AL
Naples, FL
North Alabama (Huntsville)
Northeast Georgia Mountains
Palm Beach, FL
Panama City, FL
Panhandle/Pensacola, FL
Pensacola, FL
Phoenix, AZ
Roanoke Valley, VA
Rome, GA
San Antonio, TX
San Diego, CA
San Francisco, CA
Seattle, WA
Statesboro, GA
Washington, D.C.