What is the Student Alumni Council?
The Student Alumni Council (SAC) is an organization that serves as a liaison between students and the alumni of the University of Georgia. The Student Alumni Council works in collaboration with the UGA Alumni Association and seeks to enhance the relationships between students and alumni by representing and promoting university traditions, instilling pride, bolstering spirit, fostering community, and educating leaders.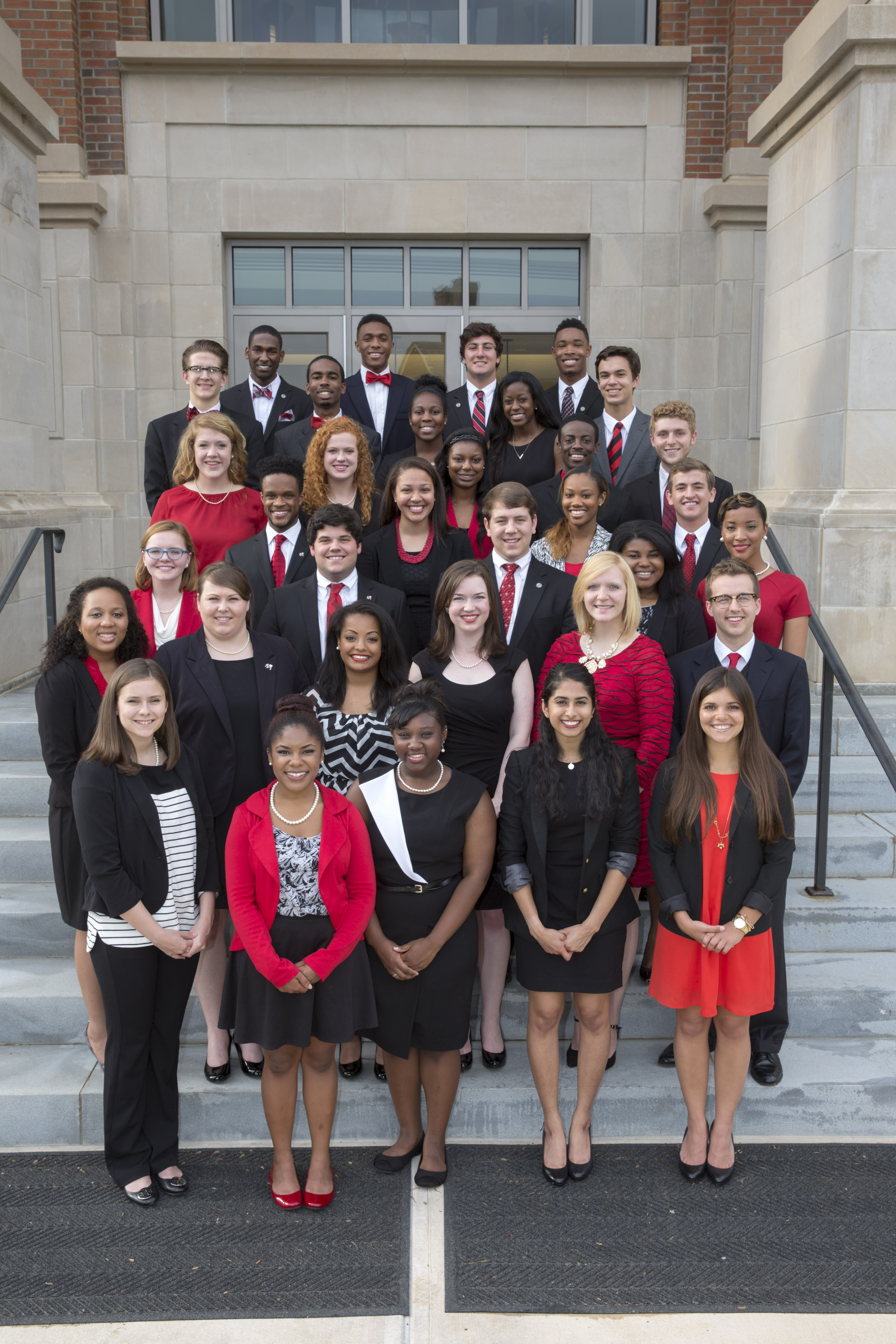 What Do We Do?
SAC participates and coordinates a number of activities on campus and within the UGA community. SAC offers its members unparalleled leadership opportunities through events, conferences and networking with alumni. The bonds forged between members and alumni as well as the Alumni Association staff, has proved invaluable as many SAC members have created long lasting friendships and networking bonds.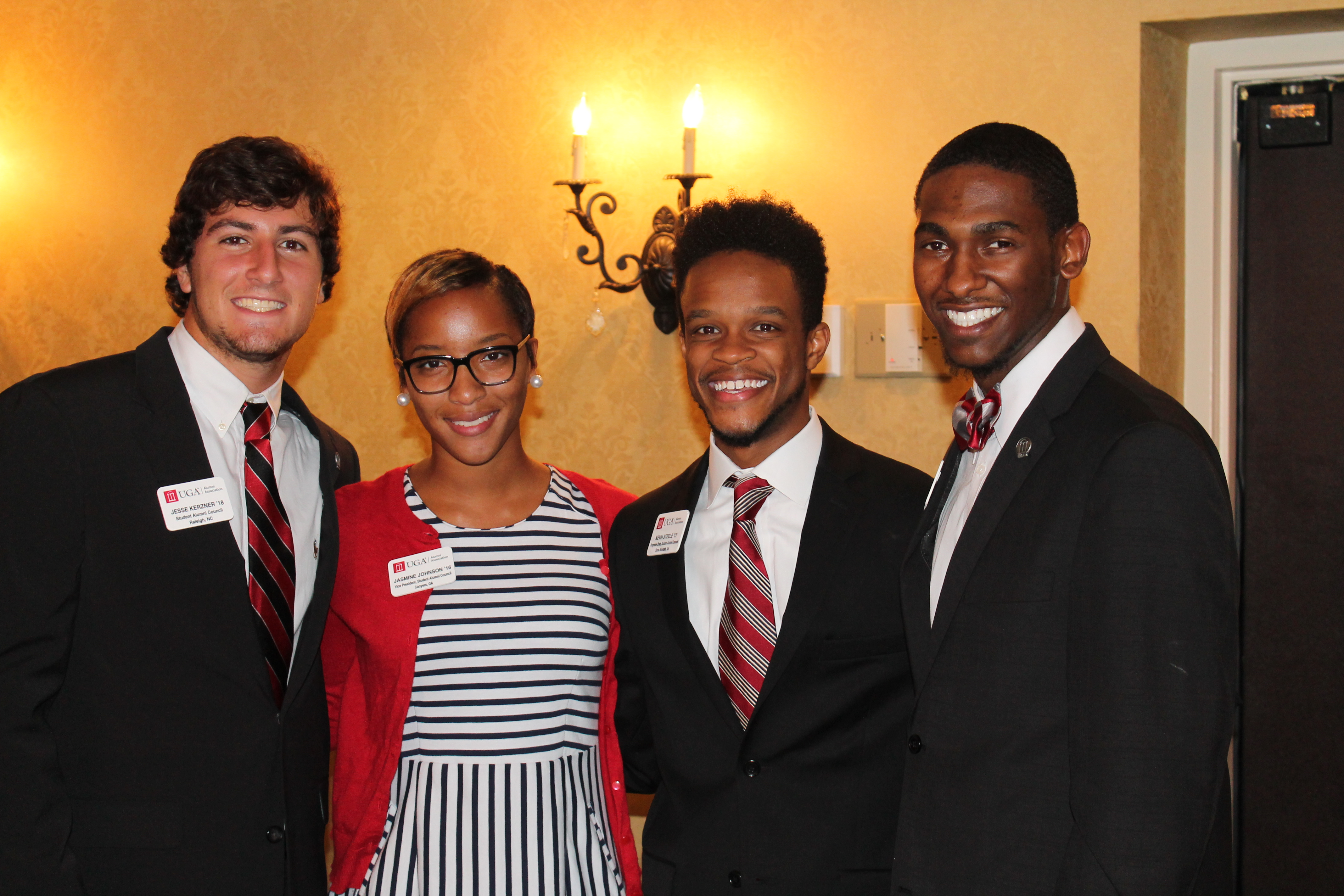 Student Alumni Council members also help to promote the Student Alumni Association (SAA) by understanding that a lifelong connection to UGA begins the day you enter the university. Student Alumni Council members coordinate:
The G-Book (The official traditions handbook for UGA)
Freshman Welcome
Senior Signature
Founders Week
Student organization visits / presentations
100 Days to Graduation
Ring Week
Ring Ceremony
Dinner With a Dozen Dawgs
Homecoming activities on behalf of SAA

Recruitment Process and Dates
Who can be a part of SAC?
Any student at the University of Georgia who has maintained at least a 2.5 GPA and is in good academic standing with the university can be apart of SAC. Applicants must be active donors of the UGA Student Alumni Association upon applying to the Student Alumni Council. Our members range from sophomore to seniors and represent a wide range of campus groups, including intercultural, volunteer, athletic, social, political and academic organizations. Freshmen may apply.
What are the time commitments?
SAC members are required to attend bi-monthly general body meetings on Tuesdays at 5:30pm. Additionally, new members are required to attend the new member orientations on April 7 and April 14 and the fall and spring retreats. SAC members are also expected to attend and participate in a multitude of programming and events throughout the academic year.
SAC Membership Requirements:
All SAC Members must be an active donor to the Student Alumni Association upon review of your application. Do not hesitate on ensuring you are a current donor. Click here to donate or renew your donor status.
2.5 GPA at the time of acceptance into the Student Alumni Council and throughout their terms of membership.
Good academic standing with the University of Georgia
Attendance at general body meetings every other Tuesday at 5:30pm. General body meetings for the 2015-2016 academic year will be held on 8/25, 9/8, 9/22, 10/6, 10/20, 11/3, 11/17, 12/1, 1/12, 1/26, 2/9, 2/23, 3/15, 3/29, 4/12, and 4/26.
Attendance at the following mandatory programs/events:

New SAC Member Orientation - April 5 and 12
Freshman Welcome - August 10
Fall Student Alumni Council Retreat - August 13-14
40 Under 40 - TBA
Spring Student Alumni Council Retreat - TBA
Bulldog 100 - TBA
Ring Ceremony - TBA
Alumni Awards Luncheon - TBA
UGA Days - TBA (Spring/Summer)
Freshman Send-Offs - TBA (Summer)
What is the Process of Selection for Student Alumni Council?
Selections will be based upon the applicant's knowledge of the UGA Alumni Association, poise, demeanor, leadership experience/potential and ability to represent the UGA Alumni Association with excellence to the many diverse constituents of the University of Georgia.
Select students from the Student Alumni Council, along with the advisor and members of the external affairs division will solicit applications for membership, conduct interviews, and recommend individuals to whom an invitation to join the Student Alumni Council shall be extended.
Applications for the 2016-2017 Student Alumni Council close Monday, February 1st. For more information regarding the application process, enter your contact info here.
APPLY TO THE STUDENT ALUMNI COUNCIL NOW »
Contact Us
If you have any questions regarding the application process for the Student Alumni Council, please feel free to contact:
Natalie Emerson '16
Graduate Assistant - Student Engagement
UGA Alumni Association
706.542.8158
nemerson@uga.edu